Clover Leaf Closer to a Reality
Somerset-Kentucky Commonwealth Journal – Clover Leaf Closer to a Reality   By Bill Mardis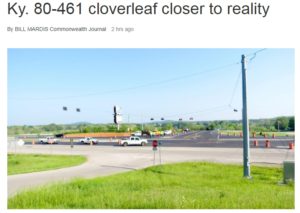 "They (Highway Department engineers) are designing it … getting paperwork ready … we won't know anything for sure for a couple of months until (and if) the grant money comes in."
Amber Hale, public information officer for the Highway Department's District 8, was giving a status report on a planned cloverleaf exchange at the intersection of Ky. 80 and Ky. 461, and four-laning Ky. 461 from the interchange north to Buck Creek bridge.
The proposed cloverleaf interchange is at the point were east Ky. 80, now Hal Rogers Parkway, reduces from four to two lanes. The current intersection with Ky. 461, redesigned a few years ago, is controlled with flashing lights, and sight distance, especially to the east, is limited. Traffic is becoming increasingly heavy and the intersection remains a trouble spot with numerous accidents reported.
State Representative Tommy Turner announced earlier this year that he got $22 million in the Transportation Cabinet's budget to build the cloverleaf interchange. Additionally, application has been made for a $25 million federal BUILD grant to expand Ky. 461 north from the interchange to Buck Creek bridge.
Turner said if the federal grant is approved –– and Congressman (Hal) Rogers is solidly behind  the project and Senator Mitch McConnell favors it –– a bridge will be built (across the proposed four-lane Ky. 461) with entrance and exit ramps to allow traffic from the growing technology and industrial parks at Valley Oak to easily merge with Ky. 461.
Rogers agreed, according to Turner, to move the east end of the undeveloped I-66 (Somerset northern bypass) corridor from a terminus with Ky. 80 near the Barnesburg community east to where it would intersect with the proposed cloverleaf exchange. Local officials think the three highways linking at the cloverleaf interchange will create a hot spot for industry in the area.
"If we don't get the federal grant, we will build the cloverleaf interchange with the $22 million in state money," Turner assured.
The section of Ky. 80 from Somerset to London was named last year as Hal Rogers Parkway. It became the western end of the existing Hal Rogers Parkway connecting London with Hazard.
The western end of Hal Rogers Parkway from Somerset to Rockcastle River Bridge is proposed in the Transportation Cabinet's planning to be upgraded to interstate standards. However, surveys show Ky. 461 carries several times more traffic than Ky. 80 and, as Turner puts it, "We've got to do something about Ky. 461." Rockcastle County officials are working from the northern end to get Ky. 461 expanded to four lanes.
Other than Cumberland Parkway extending west to I-65 north of Bowling Green, Somerset and Pulaski County do not have four-lane access to an interstate highway. Traffic movement in this country is predominately north-south and the east-west Cumberland Parkway is not heavily used.
The late Gov. Louie Nunn changed the originally planned route of Cumberland Parkway from Elizabethtown to Somerset. Nunn extended the parkway from Somerset westward to Glasgow (Nunn's hometown) and to I-65 near Bowling Green.